Make Your Own Radio Station App
Bring your radio station into the mobile age by building your own Android and iOS app – without writing a single line of code.
✓ Build a community
✓ Stream wherever you go
✓ Connect with fans
Create a Radio Station App in Minutes

Choose a mobile app template
The radio station template is pre-loaded with the features and tabs you'll need.

Brand your radio station app
Save time when we pull business info, images, and colour schemes from your Facebook page and website.

Make it your own
Customise your radio station app with everything your listeners will need — all without writing a single line of code.

Launch your radio station app
Once your radio station app is complete, we'll work with you to make it live and ready for your listeners.






Built-in Features for Radio Stations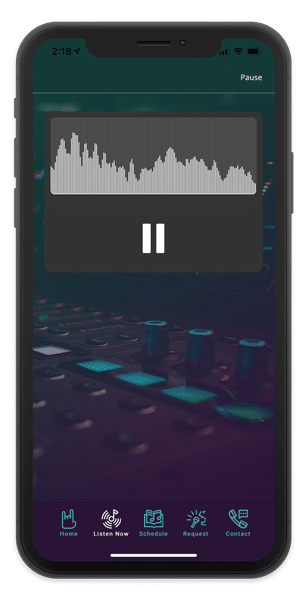 Simple Streaming
Create a better user-experience by simplifying the way your listeners tune into your station. Using our simple drag-and-drop tool,you can easily add your radio stream to a mobile app for Android and iOs devices. Better yet, send push notifications to your listeners to remind them to tune in.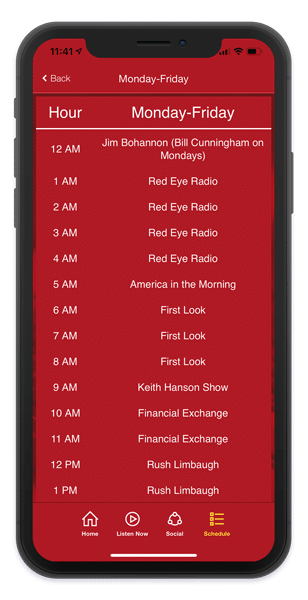 Unlimited Content
Unlimited content pages for your radio station app provides listeners with all the information they need about your schedule and presenters. Include links to your blog, website and social media to engage with listeners better than before.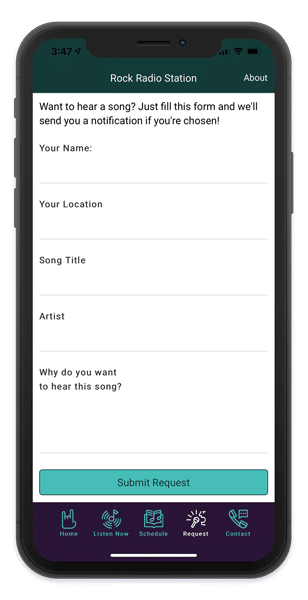 Easy Audience Engagement
Allow for easy listener interaction with in-app forms – an easy way for your station's fans to request their favourite song or interact with presenters and DJs. Create as many forms as you need for all of your listener engagement needs.
We're online and ready to help you create your own radio station app today!
What are the benefits of building a radio app?
Increased user-engagement
Mobile apps are all about convenience. This means that your listeners will be able to tune into your radio station from wherever they are. Plus, the more convenient it is for your listeners to stream your shows, the more likely they are to do so.
Another great feature of a mobile app is that it allows you to create and upload extra content for your listeners to enjoy. From blog articles to news and exclusive interviews, you'll be able to keep your audience entertained for hours.
Track listener trends
A mobile app also makes it easier to monitor the consumption habits of your listeners. You'll be able to find out when they tune in to your station, where they are using your app from and how long they listen to your shows.
Using this granular insight, you can fine tune your marketing and radio content to boost engagement and retain listeners.
Increased marketing opportunities
A mobile app also gives you a range of new marketing opportunities. You can send listeners push notifications to remind them about the broadcast times of their favourite show or to enter competitions and giveaways.
You'll also be able to use geo-targeting to reach listeners within a certain area. You can use this information to reach a larger audience and drive traffic to your radio station's streaming platform.
Generate extra revenue from your radio app
There are many different ways to make money from mobile apps, but in-app advertising is the most effective. The easiest way to do this is to enable Google AdMob which will help you set up your ad formats and view your potential earnings.
Is there a minimum term contract?
There are no lock-in periods with monthly AppBuilder and AppBuilder Pro plans so you can cancel your account at any time. The AppSmart plan requires a 12-month minimum contract.
If I decide to cancel my subscription, what happens to my radio app?
Your App will be cancelled on the day your account is cancelled and will be unpublished from the Apple App Store and Google Play Store.
Does AppInstitute have any hidden charges?
AppBuilder Pro and AppBuilder Pro+ plans require the creation of your own Developer accounts to submit your iOS and Android apps to the App Stores. Apple charges an annual fee of $99 for this and Google charges a one-off fee of $25.
What can I link my App to (ie websites, databases etc)?
Any web content, or web link can be embedded into the App. ie if you use a web widget like OpenTable for bookings, this can be integrated into your App.
iPhone or Android App? Which is best for my business?
If you're choosing to publish your App on just one platform, either Apple App Store or Google Play Store, you need to consider which one is best for your App. Unless you've already done your research, it can be a difficult decision.
There are various factors to consider when choosing between Apple iOS and Android Apps, so I've done the hard work for you. In this post, I'll highlight the factors you need to consider…
Firstly, these two companies account for over 90% of the smartphone market share.
Although Android currently dominates market share at over 80% (while Apple iOS sits at about 15%), Apple iOS dominates the profit share, generating 85% more revenue for App developers than Android.
Don't have time to build your app?
We'll do it for you! Hire an app development pro from £349+VAT for FREE!
Don't have time to build your app?
We'll do it for you! Hire a pro from $499 for FREE!
Get in touch to see how we can build a radio station app for you.