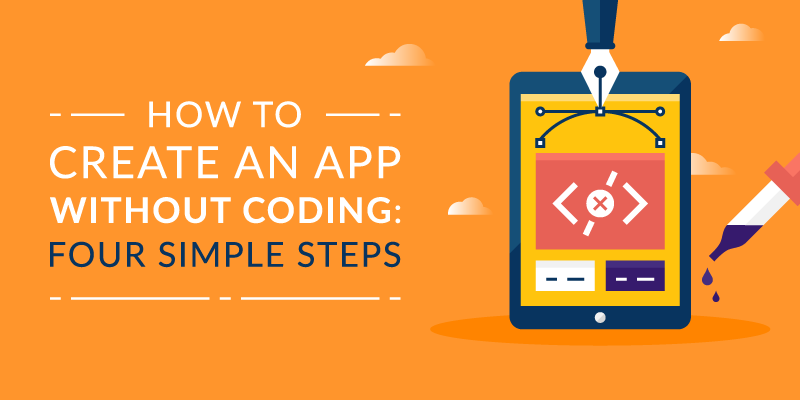 Creating a mobile app without coding is easier and cheaper than you think. You just need to use an app builder like AppInstitute. With these tools, you can have your mobile app up and running in days or even hours.
Building a mobile app takes four simple steps:
Choose a template.
Brand your app.
Edit and add content to your app.
Publish your app.
This article will go through each of these stages in further detail and show you exactly how to create an app without coding.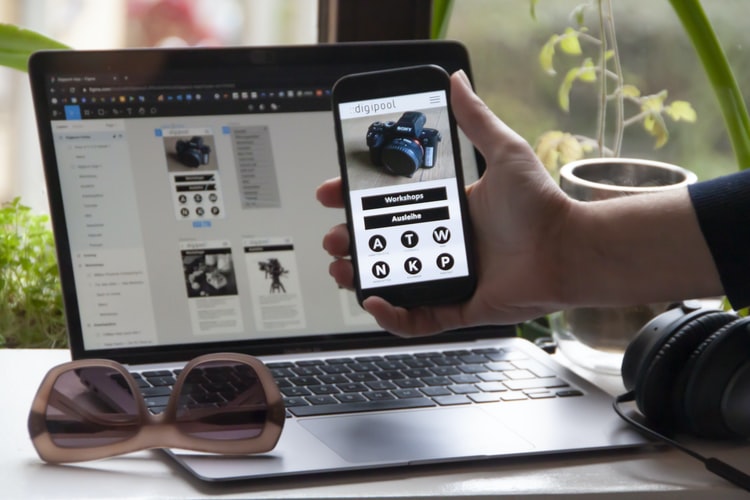 Image: Olaf Val/Unsplash
How to Create an App Without Writing a Line of Code
To create a mobile app without coding, you need to use an app builder. These are tools that come with pre-programmed templates and features that you can use to edit and customize your app.
Because the features in app builders are pre-made, you don't need to program them yourself. And because you can customize the look, content, and features, you can build mobile apps that are entirely your own.
AppInstitute is one of the most popular app builders. We have designed the mobile app development process to be as straightforward as possible.
We believe you will be able to build a mobile app that wows your customers, no matter your level of technical ability.
Our mobile apps are perfect for small businesses that want an app to improve their service and compete with bigger brands.
Our customers currently include:
Restaurants that use their mobile apps to enable contactless ordering, takeaway, and delivery.
Coffee shops that use their mobile app for loyalty schemes or order in advance.
Hair salons use the app to manage bookings and loyalty schemes.
Radio stations provide listeners with an easy-access radio stream.
You can quickly build both an iOS and Android app with our app maker. This is essential, as releasing native apps on each platform ensures your entire customer base can use your product.
If you want to make an app while reading this guide, head over to this link to sign up and try out our app builder.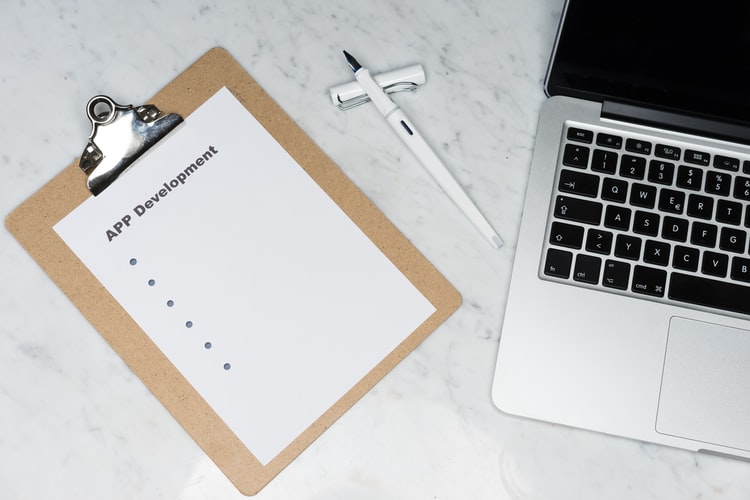 Image: Markus Winkler/Unsplash
Step One: Choose Your App Template
The first step in the mobile app development process is choosing a template. We have templates available for a wide variety of business types, industries, and use cases.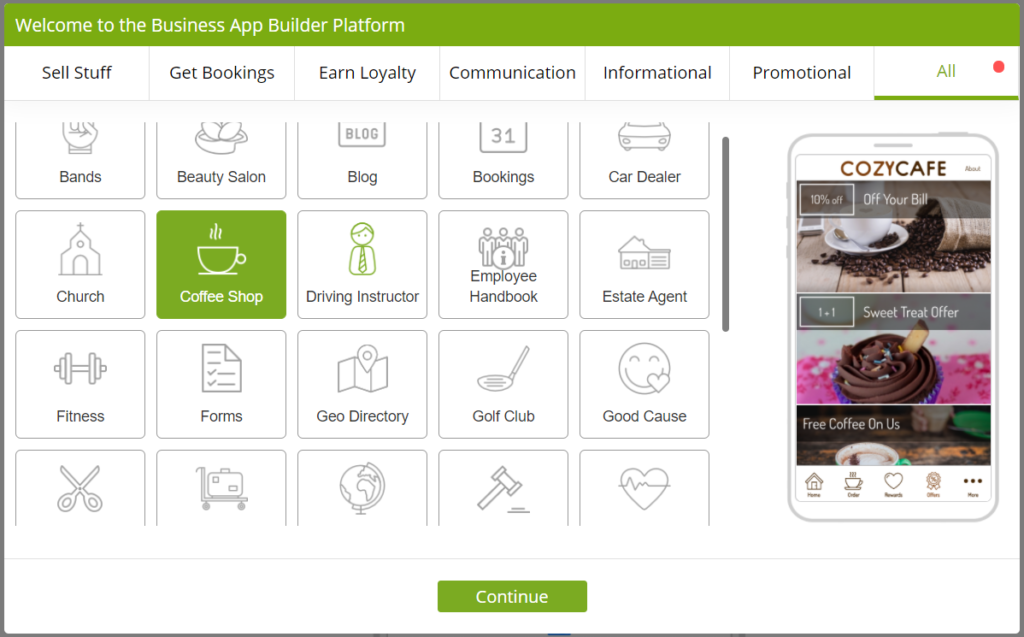 Each of these templates contains the features that most benefit the people who run each type of business.
For example:
All the templates are customizable. That means if it doesn't have all the features you need to create your app, you can easily add more in the following steps.
If your business doesn't fit any of the existing templates, you can make a mobile app from scratch and only add the pages and features you need. Just choose the relevant option when setting up.
Step Two: Branding
Next, select a color scheme for your template. We make this easy by letting you connect your website to the mobile app builder.
We then pull out the colors you already use and suggest a suitable palette for your app that matches your existing branding.
If you don't have a website or you'd rather choose your colors, you can do so in the next step. Just click the "Skip this step" button.
At this stage, you can enter your mobile number so we can send you a preview link that lets you see how the app looks on a mobile device.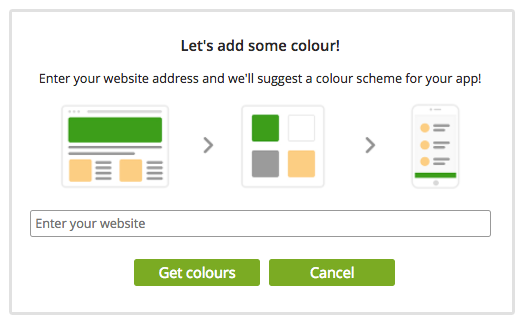 The colors you choose aren't the only way you can brand your mobile app. Our app builder makes it easy for you to customize your app with images that you can use on the splash screen or as a header bar image.
This makes your app instantly recognizable. Just upload the images via the relevant section and use our drag and drop editor.
The final step in the branding process is uploading your app icon. This is the logo that people see when they want to open your app or search for it on the App Store or Google Play.
Make sure yours stands out and is instantly recognizable so people can quickly access your app.
Step Three: Content
Each mobile app template comes with preloaded content, which you can easily edit to suit your own business.
For example, you can change the text shown on the About page or add new images and descriptions to your menu.
The app builder also makes it easy to add new tabs to your mobile apps.
Whether it's an about us page with details of your company's contact and social information, a services page that outlines all you have to offer, loyalty programs, or simple to use forms. You can customize your content to build an app suitable for any business type.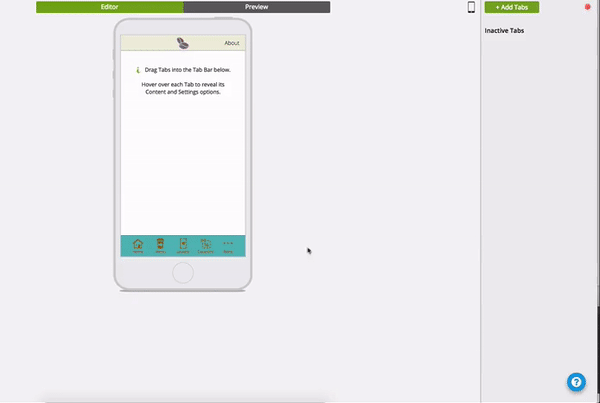 It's also easy to remove features you don't think will benefit your audience. If you don't want to offer a loyalty program, for example, just delete it from the app.
This customization ensures that novices can create an app unique to their business without writing a single line of code.
Once you've added content, you can set navigation options. Choose from a tab bar or sidebar menu that enables customers to access features in your app easily.
Setting up the back-end of the features is easy. You can adjust the settings so that you receive a notification when someone makes an order or sends you a message.
It's also possible to restrict access to certain pages to only logged-in users.
Step Four: Publish
Now you've worked on the design and added your content to each area of your app, you just need to publish it. Users will then be able to easily download either the iOS or Android app to their phones.
Our app builder provides all of our users with an easy-to-use wizard that simplifies the publication process. Just follow the steps to set your app live on the App Store, the Google Play Store, or both.
There are several sections you will have to complete before you go live. First, you need to confirm that you don't breach any of the content warnings from either app store.
Then you can fill in the details that will show up in your app store listing, including:
App Title
Icon Name
Categories
Keywords
Description
Before publishing your mobile app, you'll need to sign up for a Google and Apple Developers account. This is required by everyone who wants to publish an app on one of these platforms.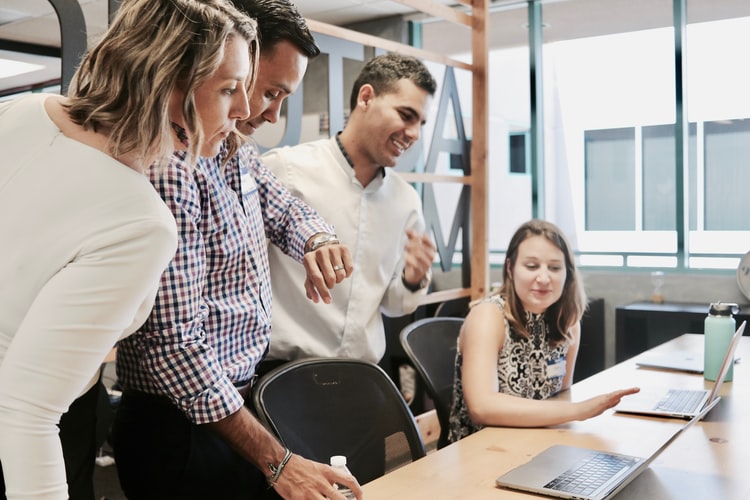 Image: Campaign Creators/Unsplash
Top App Builder Features for Your Business
The AppInstitute app builder has features that help many types of businesses: including coffee shops, nightclubs, hair salons, driving instructors, charities, and many more.
Here are some of the available features for mobile apps:
Mobile Coupons
Incentivize customers to download your new app by offering exclusive discounts with mobile coupons. These redeemable coupons can have set start and end dates to suit your offer and can help drive those all-important sales.
Coupons are particularly effective at driving sales during quiet periods of the year or to promote special occasions!
Food Ordering
With the rise of food ordering apps like JustEat and Deliveroo, restaurant consumers are used to ordering food with just a few clicks.
Create and customize your own food ordering app and benefit from great features like one-click ordering without the substantial commission fees charged by third parties.
You can use this same system to provide a contactless ordering experience at your restaurant, coffee shop, or bar.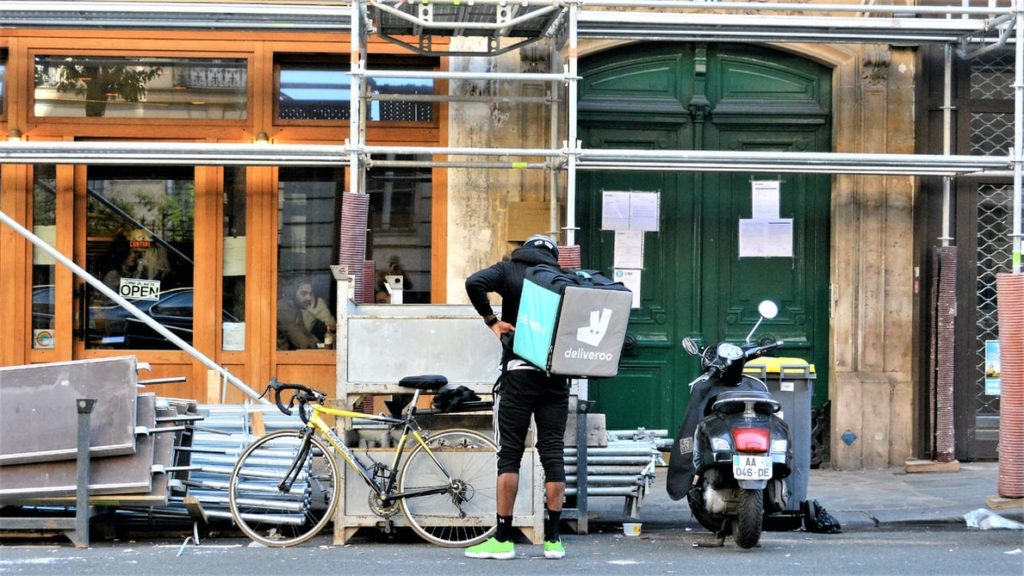 Image: Carl Campbell/Unsplash
Gallery
Promote your business with gorgeous images in a photo gallery. Hair salons can easily upload the latest photos of their stunning cuts and colors. Or ecommerce stores can showcase images of all their latest products.
Loyalty Program
Our loyalty program tab lets you create a rewards scheme that gives customers a stamp whenever they buy from your business.
When the customer hits a predefined number of stamps, you provide them with a gift. The scheme is entirely customizable, so you can make it work for your business and users. It's perfect for any business that would benefit from repeat sales.
Booking System
Connect your online booking service to your app to accept bookings. It's perfect for hotels, salons, restaurants, or any type of business that uses bookings.
Or you can create events and then accept reservations from your customers. Bars and pubs will find this tab useful, too.
Ecommerce
Connect your ecommerce provider to your app to give people a new way to order directly from your business. We can integrate with platforms including Amazon, Etsy, Magneto, and Shopify.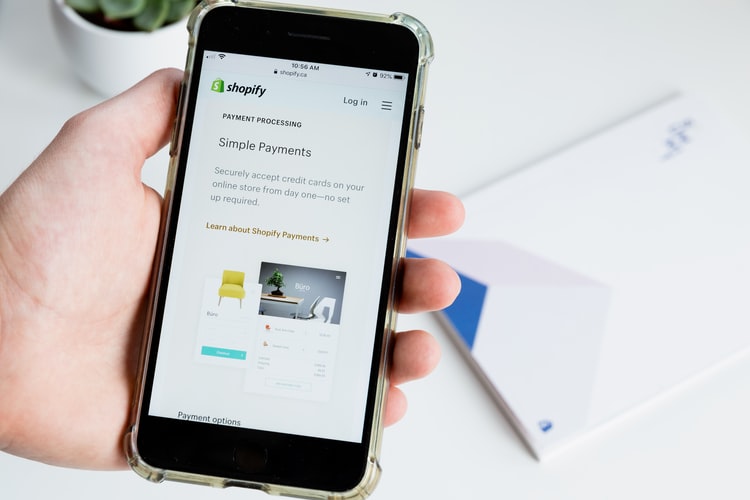 Image: Roberto Cortese/Unsplash
Audio Stream
Give your customers direct access to an audio stream from their phone or tablet. It's a great way for radio stations to ensure listeners always have access to their stream.
Push Notifications
Keep customers engaged by sending push-notifications directly to their phones. A well-timed message could be the difference between someone ordering from your takeaway on a Friday afternoon and cooking at home.
You can tailor push notifications based on different customer segments or the location of the customer. For example, you can show families one offer and couples another.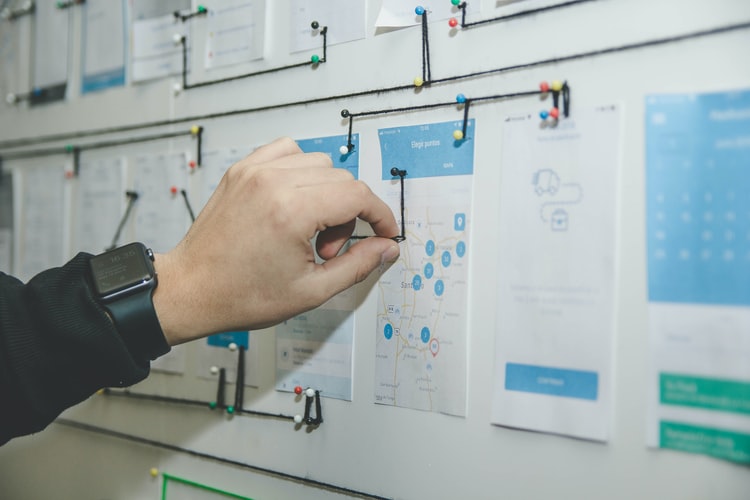 Image: Alvaro Reyes/Unsplash
Directions
Add a directions tab that shows users how to find your business. The tab uses Google Maps so it is easy for customers to use.
Contact
Make it easy for customers to contact your business by including a page with a form. We offer several preset forms that allow customers to register, send feedback, or send images.
Or you can create your own form with the form editor. Add various types of fields including checkboxes, email addresses, and images.
You can check out the complete list of features that we have available here.
Achieving Long-Term Success
App builders make it easy to create mobile apps without coding or programming knowledge. But building your app from scratch and then launching is only the start of the mobile app development process. And it is certainly just the start of the journey with us at AppInstitute.
We want to help you make the most of your new tool, so we'll supply you with a 30-day success plan which covers all the things you need to do in the early stages to help achieve your long-term goals.
We'll equip you with social sharing tools to promote your app on the likes of Twitter, Facebook, Instagram, and LinkedIn.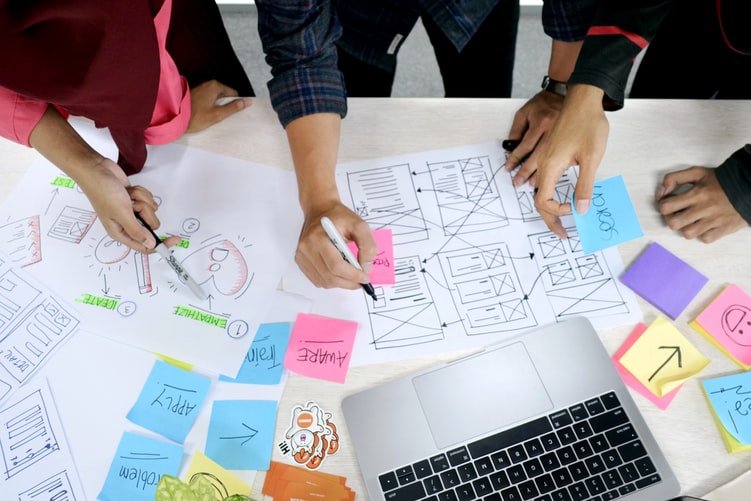 Image: UX Indonesia/Unsplash
You'll also be able to access your app's analytics data to view downloads, app actions, and download sales reports across customized time frames to track the success of campaigns or learn how much revenue you are bringing in.
If you want even more in-depth analytical information, use Google Analytics to identify the most viewed pages, where your traffic is coming from, and many more insights and reports.
Once you've got a captive audience, communicating with them to keep them that way is the next crucial element. Push notifications are one of the best ways to connect with customers throughmobile apps almost instantly.
Use them to promote exclusive deals and discounts, send important updates, reminders, and much more.
With the addition of geofencing technology, you can use push notifications to target customers when they are near your business.
Building Apple or Android mobile apps doesn't have to be a scary, daunting prospect.
AppInstitute makes the process easy, stress-free, and affordable. You don't have to write a single line of code. You get complete control over how your app looks, functions, and feels.
Take the plunge and delve into the world of the mobile app to take advantage of features that will blow your customers away and put you ahead of the competition.
---